Davies was due to take top job at Carillion a week after it collapsed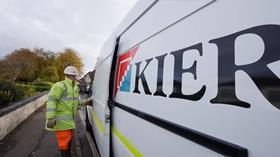 Andrew Davies has been named Kier's chief executive more than a year after he was due to take over the helm at Carillion.
Davies was chief executive of Wates between 2014 and 2017 but left to head up Carillion. He had been due to take over the firm a week after it collapsed on 15 January last year.
Since then Davies has maintained a low profile, continuing his work as a non-executive board member at aerospace firm Chemring but making no statements about Carillion or his future.
Prior to leading Wates, Davies spent 28 years at BAE Systems, latterly as managing director of its maritime division.
He joins Kier, which is due to unveil its interim results tomorrow, on April 15.
Davies became an early favourite for the top job at Kier, the country's second largest contractor after Carillion's collapse,when it became vacant in January after Haydn Mursell was squeezed out by the board.
During his time at Kier, Mursell presided over several acquisitions and saw net debt rise to £375m at the end of last year.
In November, the firm turned to shareholders and asked for more cash through a £264m rights issue, with underwriters ultimately picking up 62% of the new stock.
Last week the firm told investors an accounting error meant its net debt was actually £50m higher than previously thought - at £180.5m.
Davies said: "I am delighted to be joining Kier as chief executive. Kier has established market-leading positions through developing long-term client relationships and delivering excellent client service. I look forward to leading Kier in consolidating those positions and to bringing a renewed focus on simplifying the group, improving cash flow generation and reducing net debt."
In an interview with Building in September 2014, to mark his first anniversary in charge of Wates, Davies gave an insight into his thoughts on the construction industry after years in the defence sector.
"The competitive environment is very different [to defence]. No doubt about that. Construction is a very, very competitive sector at all levels."
In an indication of what he might do at Kier, Davies put in place an "operating framework" during his time at Wates, to set out a common set of processes that all parts of the business have to adhere to when bidding and delivering work.