Project forms part of £300m second phase of university's 10-year masterplan
Kier has been appointed by Swansea University to build a £30m student activity centre at its Singleton Park Campus.
Work on the scheme, subject to planning permission, is expected to start in summer 2018 with completion scheduled for spring 2020.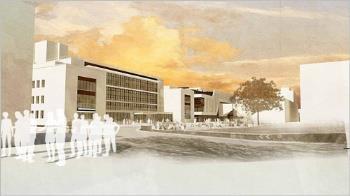 The 8,250m2 centre forms part of a 'student precinct' planned by the university, which will also include the refurbishment of grade II listed Fulton House plus landscaping work.
The developments are part of the £300m second phase of Swansea University's 10-year masterplan for both the Singleton Park Campus and the Bay Campus, which began in January 2016.
Professor Richard B Davies, vice-chancellor of Swansea University, said: "This exciting new project for the university, which will link the east and west sides of the Singleton Park Campus, streamlining and improving its layout, will be at the forefront of sustainable construction; employing sustainable, energy efficient building techniques, and renewable energy technology."
Jason Taylor, operations director for Kier Construction Western and Wales, said: "Kier are delighted to be working with Swansea University. It's paramount to have a true understanding of the university's aspirations for this prestigious project, this will ensure that we deliver a campus that both staff and students can be proud to attend."