New model and senior leadership team is part of five-year growth strategy
Liam Cummins, Kier's construction boss, is restructuring the UK business as part of a five-year growth strategy.
Cummins, who was poached from Laing O'Rourke at the start of 2020 by chief executive Andrew Davies to help turn Kier's fortunes around, said: "This new operating model and senior leadership team puts us in the strongest position to deliver sustainable growth."
The new structure consists of five business units, four of which are regional businesses, plus its residential maintenance and FM arm known as Kier Places. It is also setting up two new business functions, one focused on operations, the other on clients and markets.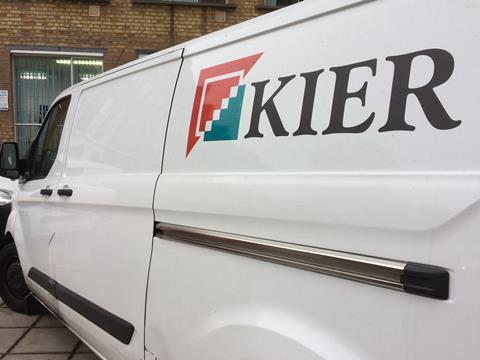 David McKenzie, who joined Kier last year, will lead the London, South & strategic projects business, which covers healthcare and education projects, as well the commercial sector. Current projects include the HMP Five Wells prison for the Ministry of Justice, and a 12-storey, 388,000ft2 office building King's Cross.
> Interview with Kier's Andrew Davies: 'Don't bleat, just fix your own problems'
Mark Dady, the firm's current managing director for its Eastern division will lead its Midlands & Eastern unit, which will be responsible for projects such as the Perry Barr residential scheme in Birmingham.
Anthony Irving will continue as managing director of Western & Wales and will also take overall responsibility for safety, health and wellbeing within the business. Within this region, Kier is delivering the UK's first Passivhaus standard leisure centre, St Sidwell's Point.
Gary Wintersgill is continuing as managing director for North and Scotland business.
Kier Places will continue to be headed up by Mark Whittaker.
The new clients and markets business will be led by Louisa Finlay, formerly managing director for Kier's regional building southern business.
She has led the sustainability strategy within Kier's construction business and will work with clients on net zero targets, while also overseeing Kier's modern methods of construction and digital services.
Chris Stevens will take up the position as overall operations director for the construction business, having joined Kier in January as managing director for the Midlands and Performance Excellence.
He will now also be responsible for Kier's self-delivery capabilities in building technologies and design.
Last month Kier confirmed £350m in combined proceeds from sale of housing arm, Kier Living, and an equity raise. Its latest trading update said full-year results would be ahead of expectations when the firm releases its annual figures this September, with operating margin expected to be around 3% on revenue of between £4bn and £4.5bn.