Kier previously held a pre-construction services agreement for new social science building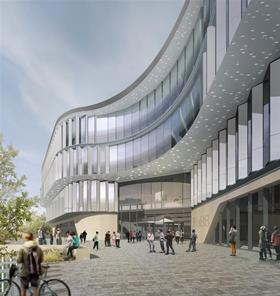 Kier is set to be replaced by Bam on a £65.3m contract to build a social science building for the University of Sheffield.
The firm was appointed to a pre-construction services agreement (PCSA) in September 2017 but was unable to agree an overall tender price with the client.
But the university said: "The PCSA envisaged that the parties would work towards finalisation of the construction contract and the overall tender price.
"It has not been possible for the University of Sheffield to reach an agreement [with Kier] in accordance with the PCSA, which has now concluded."
Now Bam, the second-placed bidder, is in negotiations to construct the HLM-designed 16,600m2 faculty on an old sports pitch to the west of Sheffield's city centre.
A source said the negotiations would be wrapped up by the end of next month.
The rest of the project team remains the same: structural engineer Mott MacDonald, Arup on M&E, Turner & Townsend on cost consultancy and Mace on external project management.
The university has said the site is difficult to develop because of construction work being undertaken at surrounding university and hospital buildings, as well as because of a National Grid gas regulator on site.
The faculty is due to be operational for the academic year starting September 2021.
Kier has been contacted for comment.