Investors worry firm won't raise enough cash to cover rising debt burden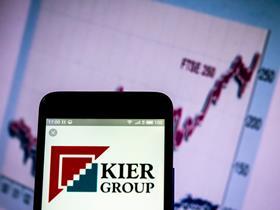 Kier shares have once again tumbled to an all-time low as traders doubt the firm can pay down enough debt with the cash raised through the sale of four businesses.
In a statement this morning, the £4.5bn-turnover firm said it would axe 1,200 jobs as well as a seek the sale of its housing, development, FM and environmental services arms.
But investors once again found cause for concern in an official Kier announcement, with the group's share price losing a further 17% of its value and trading for 108p apiece as of 12.30pm on Monday.
Kier's stock traded for 988p on 18 June last year and was still worth 278p at the end of last month despite a rights issue in December – but it haemorrhaged value a fortnight ago after Kier announced its second write down since the start of the year.
In this morning's update Kier also revised its debt figure up again, saying its month-end net debt figure for 2019 would be up to £450m – despite previously saying it would be £420m.
Stephen Rawlinson, an independent analyst, said investors are selling shares because they are unconvinced a "fire sale" of Kier's businesses will raise cash to pay down enough of its debt.
"The City thinks Kier will come back offering more equity," he said. Equity could be offered to investors for cash – as with its rights issue – or, more likely, to its creditors in exchange for debt cancellation.
He added: "Kier plans to sell-off these businesses under pressure, in a buyers' market – they won't raise enough cash. Look at Mitie: it wanted a £100m for its social housing arm but ended up selling it to Mears for £22m [in November], and had to make a £14m write down on its bad assets."
Kier's market capitalisation now values the entire group at around £210m – more than £50m less than was raised through a rights issue in December in an attempt to stave off a balance sheet crisis.
Rawlinson also said the businesses being brought to the market are the "good bits," suggesting that the Middle East and housing maintenance divisions are only staying with the group because their bad assets would make it to difficult to entice a buyer.
And Cenkos analyst Kevin Cammack admitted: "[It's a] more extensive abandonment than I expected. I didn't expect Kier Living to go, only Property and FM. Clearly there has also been something of a run by its supply chain too, hence the further weakening of debt. Davies is signalling a bit of a return to Kier pre-2000, back to contracting basics."