Kier reported 32% fall in profit after slimming down its business but says its now well positioned for growth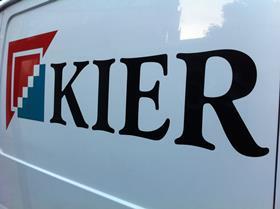 Kier has reported a 32% fall in profit after taking a £17m hit after restructuring its construction division and off-loading some smaller businesses.
In its results for the year to 30 June 2013, Kier reported group revenue, including share of joint ventures, of £1.98bn, down slightly from £2bn last year.
The firm said the fall in revenue was primarily due to poor weather in the first quarter of this year, which caused delays to construction jobs, pushing revenue into the 2014 financial year.
It reported pre-tax profit, after £20.4m in exceptional items and finance costs, of £43m, down 32% on £63m last year.
The £20.4m in costs included £17m in exceptional items, with £12m relating to the "comprehensive restructuring programme" in the construction business.
It said this programme was now "substantially complete", with £1.9m of the costs related to the closure of its scaffolding, joinery and temporary electrical business and the remaining £10.1m incurred through "office closures and associated staff reductions".
The firm did not say how many offices across its extensive regional network had been closed, but said the restructuring had led to an 8% reduction in staff costs.
It said: "In order to improve the efficiency of the group, we have undertaken a significant restructuring programme during the year, closing some non-core operations and adjusting the scale of our regional building operations to better suit anticipated demand.
"The restructuring programme will ensure we operate as efficiently as possible and maintain operating margins at approximately 2%."
It also incurred £3.2m in costs due to the disposal of its power crane business, including redundancy costs, and incurred £1.8m in costs due to the acquisition of May Gurney.
The group's operating profit, before the deduction of the exceptional items, dipped slightly to £69.7m, down 6% on £74.4m last year.
The firm's construction business posted revenue of £1.31bn, including share of joint ventures, down slightly on £1.38bn last year, with an operating profit, before exceptional items, of £30.4m, down 14% from £35.2m last year. This gave the business an operating margin of 2.3%.
The firm said revenue from building work within the construction business fell to around £1bn, with the reduction partially mitigated by an increase in infrastructure work.
Kier said the restructure had put it in a strong position to benefit from an upturn in the construction market.
Chief executive Paul Sheffield said: "After nearly five years of recessionary pressure, we are seeing positive signs of improvement in all our principal businesses, which gives rise to cautious optimism that the economy is recovering.'
The firm said its acquisition of support services business May Gurney had now created a combined support services business with revenues in excess of £1bn.
It said that since the acquisition, the firm had not lost any contracts and its "combined set of capabilities has enabled us to bid on a range of new projects covering water, rail and highways with a total value in excess of £500m".