KSR Architects has won a competition to design a public pavilion for the inaugural Camden Create Festival 2014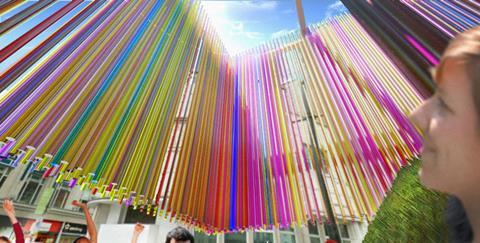 The pop-up artwork, developed in junction with Arup, will be located at Britannia junction outside Camden Town tube station for the duration of the festival, which takes place next month.
The free standing public pavilion has been designed to be installed overnight, making innovative use of a lightweight theatre and stage truss system that is hoisted up to hang over 640 multi-coloured and translucent tubes above the pedestrian square.
The tubes are hung like a kaleidoscopic wind chimes, allowing them to move and shapeshift in the wind.