Shadow housing minister says she will bring in rules forcing training on publicly-funded projects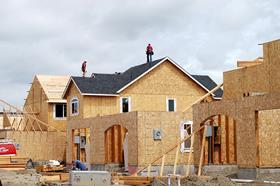 A future Labour government would reinstate rules requiring housebuilders and housing associations to take on apprentices on all publicly-funded housing projects.
Shadow housing minister Emma Reynolds said the Homes and Community Agency rules, which were brought in in 2008 by Labour but abolished in 2010 by the coalition government, would be reintroduced by a future Labour government as part of a bid to tackle low levels of training in the industry.
Reynolds said: "Removing the guidance was a mistake. The HCA has got such great leverage over the industry, central government should reintroduce this . Where the government is giving grant, we need to be getting bang for our buck, and that means apprenticeships, training and skills for local people.
"Otherwise there is a real fear that construction jobs that are created won't go to local people."
Reynolds added a Labour government would look at whether to introduce similar rules around public land disposals, meaning housebuilders building out former public sites would also have to meet training targets.
Her comments follow a policy review by Labour on the issue of training, published in the autumn, which found that a future government should focus on encouraging more longer "level three" apprenticeships such as those in construction, and should use public procurement to achieve this.
Speaking to the Home Builders' Federation annual policy conference yesterday, Reynolds said there had been a "longstanding underinvestment" by the industry in skills and training and that the industry was in danger of a "looming skills shortage."
Her announcement follows chancellor George Osborne's commitment in last week's Budget of an additional £170m for small businesses to support over 100,000 new apprenticeship places in the next two years.
It also follows a report last month by a cross-party group of MPs that slammed the construction industry for its "pathetically dismal' number of apprentices, after the number of completed apprenticeships last year fell to 7,280, just half the figure for 2008/09.
Reynolds added that there was "an issue with how the industry is perceived by young people" and that it needed to do much more to attract women and ethnic minority groups in to the sector.
Reynolds said Labour supported chancellor George Osborne's efforts to back the new build sector through extending the Help to Buy equity loan scheme, but fell short of saying a future Labour government would continue the scheme exactly in its current form.
In particular she said Labour would review the current £600,000 ceiling for purchases that can be helped by the scheme, saying Labour was "shocked" at the level when it was announced.
Housing minister Kris Hopkins, speaking at the same conference, criticised Labour in government for having been "obsessed with university careers" and said the government was looking to send a message to young people in the construction industry that "we treasure what you do – and it's a long-term sustainable career."