Labour is set to outline proposal to tackle land banking to boost housebuilding numbers, inlcuding fining developers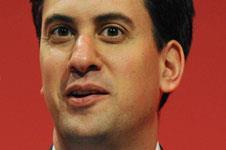 Labour is set to outline proposal to tackle land banking to boost housebuilding numbers, with developers that have planning permission but do not build homes facing fines.
In a speech this weekend, Labour leader Ed Miliband is expected to claim that too many firms with planning permission for residential schemes are "sitting on land" to see it gain value, instead of developing it.
Miliband will use his speech to Labour's National Policy Forum to say planning permission has been granted for 400,000 homes in England that have not been built.
Labour is looking into giving local authorities "use-it-or-lose-it" powers to penalise firms which do not proceed with construction.
Speaking on the BBC Radio 4 Today show this morning, Labour's shadow communities secretary Hilary Benn said developers who had been given planning permission but did not build homes should face charges.
He said: "We accept that you need to have a certain supply in the pipeline. The question is when there's too much of that going on and we've seen an enormous increase… and I'll say one other thing about the house builders. They are in a very unusual position because unlike just about every other business, they have been selling less of what they make but their profits have gone up enormously.
"The fact is if you've got the permission, you ought to be building the land and that's why we're saying that local authorities might have the power to say look if you don't built we'll levy a charge. It's something the IMF recommended recently and in the most extreme cases, you could compulsorily purchase the land and then sell it onto someone else who would then build the homes."
In is speech this weekend, Miliband is expected to say: "Across our country, there are firms sitting on land, waiting for it to accumulate in value and not building on it.
"Landowners with planning permission, who simply will not build. We have to change that.
"All options should be on the table, including giving local authorities real power to say to the worst offenders that they should either use the land, or lose the land.
"Permission to build should mean landowners build. If there is unnecessary hoarding, developers should be encouraged to do what they are in business to do, build houses."
The Labour leader is expected to admit that governments including the last Labour administration in which he was a cabinet minister, have continually failed to deal with housing shortages.
But chairman of the Home Builders Federation, Stewart Baseley denied housebuilders hoard land.
He said: "Housebuilders are not land companies and buy land specifically to build homes on it.
"Of course many permissioned sites are owned by non-developers but actual housebuilders do not land bank unnecessarily. This measure would not lead to an increase in housing supply and what we really need is a properly functioning planning system to increase house building, not yet more taxation and regulation."
Planning minister Nick Boles said Labour's policy was "incoherent".
"Most normal planning permissions already expired after a three-year period and councils don't have to renew them," he said.
"Labour clearly learnt nothing from its failures in government as 400,000 homes represents less than two years' worth of the number of new homes that we need to build. And confiscating any land from development will not help build a single house."