Move provides certainty to industry as government approves a further 38 free school projects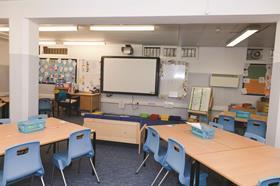 Labour has pledged to honour the current government's pipeline of free school projects if it comes to power, in a move that would safeguard what is thought to be more than £850m of construction work.
A Labour spokesperson told Building this week that, should the party win next May's election, "free schools that are open - or in the pipeline - will remain".
The move will come as a relief to construction firms working in the education sector, amid fears that projects may be cancelled by a Labour government, particularly given political sensitivities over free schools.
The pledge came as the Department for Education (DfE) today granted approval to 38 new free school projects, all of which would now be expected to go ahead under a Labour government.
The DfE is thought likely to approve a similar number of projects in each of its two remaining approval waves before the next election, meaning up to 120 new school projects would be safeguarded. Labour's stance would also safeguard the permanent construction projects of the 120 schools approved for opening this September, the majority of which are expected to open in temporary accommodation. Although the exact number has not been confirmed by the DfE, a National Audit Office (NAO) report published last December found that around 60% of free schools are expected to open in temporary premises.
On this basis, around a further 70 permanent construction projects would be required to service these schools which, taken with the new approvals, brings the total pipeline of projects likely to run into the next parliament to around 190.
Based on the NAO's calculation of average construction costs of £4.5m per free school, excluding site acquisition costs, this pipeline is worth in the region of £850m. However, several market sources have told Building that the cost per free school has risen since the report, with more new build projects and a high number of schools in the south. One source suggested that this could add 50% to the value of the pipeline.
Natalie Evans from the New Schools Network said Labour's confirmation that it would allow free schools in the pipeline to open was "extremely welcome" as it would provide "certainty and reassurance for those that are due to open in September 2015 and beyond".
Marcus Fagent, head of education at EC Harris, said: "This is tremendously good news for free school promoters, as they will gain confidence that their school will be taken forward into a new administration."

Have your say on the construction policies you want from the next government.
Go to building.co.uk/agenda15