Strategy commits to decarbonising electricity supply by 2030 and creating a million green jobs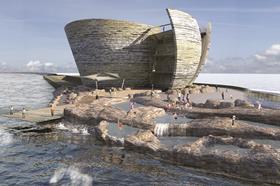 Labour has published details of how it plans to create a green economy by committing to decarbonising the UK's electricity supply by 2030 and creating a million green jobs over the next decade through a green industrial strategy.
Signed by Labour leader Ed Miliband, shadow energy secretary Caroline Flint and shadow secretary of state for environment, food and rural affairs Maria Eagle, the party's Green Plan elaborates on earlier commitments from the party on green issues, made in its main manifesto, and explains how Labour expects to decarbonise the UK's energy supply.
The Green Plan envisages an overhaul of the country's approach to energy efficiency by upgrading and insulating five million homes over 10 years and by making household energy efficiency a national infrastructure priority, an aim also backed by the Lib Dems and contained in Building's Agenda 15 manifesto.
The plan states: "In order to cut our emissions we must also reduce the amount of energy we use. Indeed, energy saving is the cheapest and quickest way to reduce our emissions.
"Labour will fundamentally overhaul Britain's approach to energy efficiency."
The plan also offered free energy improvements to at least 200,000 homes a year in or at risk of fuel poverty, while private rental sector landlords would be required to upgrade their properties to Energy Performance Certificate C by 2027. Labour also promised to work with housebuilders to implement the zero-carbon homes policy.
Public bodies responsible for critical infrastructure such as schools, roads, hospitals and airports will be asked to compile mandatory adaptation reports and have plans in place for increasing resilience to climate change.
Regarding infrastructure investment, the Green Plan aims to stop any moratorium on onshore wind - which is considered vital to meeting renewable energy targets - and also promises Labour will work with the solar industry to "provide a stable economic environment for investment". Labour also said it sees carbon capture and storage as a necessity. It would give the Green Investment Bank borrowing powers and would allow individuals to invest in clean energy and low-carbon technologies through new green bonds.
The publications of the Green Plan comes as Flint gave tentative backing to the proposed £1bn Swansea Tidal Lagoon project on a visit to south Wales on Tuesday.
Speaking about the project, Flint said that negotiating an agreed strike price for the electricity produced at the lagoon was key. Flint said: "I am absolutely clear that value for money for bill payers is a consideration. It is a balance of interests. We have never done this before - getting this right is really important."
If successful, the Swansea Tidal Lagoon is expected to act as a test case to explore the possibility of similar power schemes elsewhere in the Bristol Channel and the rest of the UK. The plans would see the creation of a six-mile sea wall in Swansea Bay that would feature turbines capable of generating around 0.5TWh of electricity a year - enough to power almost 120,000 homes.