Shadow energy minister pledges 'smooth transition' to Labour's proposed replacement scheme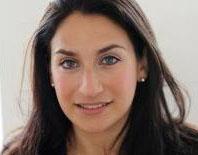 The transition to a replacement Green Deal scheme under a Labour government would be "smooth and orderly" and would not have an adverse impact on the industry, the party has said.
Writing for Building this week, shadow energy minister Luciana Berger (pictured) confirmed that a Labour government would replace the Green Deal and sister scheme the Energy Companies Obligation (ECO) with a new Energy Save scheme. But she said the "number one priority" in setting up the new scheme would be to ensure a "smooth and orderly transition".
She said that the current government failed to provide a suitable transition when it launched the Green Deal. "Insulation installations collapsed and thousands of workers lost their jobs when the Green Deal and ECO launched earlier this year," she said.
For more on Labour's Green Deal plans see this week's news analysis
The pledge to minimize the impact of any changes to the Green Deal, should Labour form the next government, will come as a relief to the industry, which reacted with concern last week after Labour said it wanted to replace the scheme.
Although there are widespread concerns about the existing Green Deal scheme, industry figures cautioned Labour against tearing it up and starting from scratch.
Berger said Labour's replacement scheme would address some of the key failings of the Green Deal, including "eye-watering" interest rates, and hidden charges and penalties for early repayments. She added that Labour wanted a less bureaucratic ECO scheme, that targeted those in fuel poverty, with a greater role for local authorities, .Berger said Labour would consult soon on its replacement scheme.
The latest Green Deal figures showed just 372 households had signed up to a Green Deal plan and just 12 Green Deals had been completed by the end of August.This week the Federation of Master Builders (FMB) warned the Green Deal would fail unless the government incentivised demand.
The FMB said measures should include a reduced rate of VAT for energy efficiency work and free energy-efficiency assessments.
Brian Berry, FMB chief executive, said: "Until our members see a clear demand for Green Deal work and a more straightforward route to the Green Deal market, they will not engage with the scheme."
Berger did not say if Labour would look at driving take-up of its scheme through additional incentives. However, ministers have ruled out putting additional incentives in place.
Also, writing for Building this week, energy minister Greg Barker said the government was working "tirelessly" to ensure the success of the Green Deal.
He said: "I would be the first to acknowledge the challenges involved in getting Green Deal finance flowing. But we are getting there."