Contractor comes out as strongest performer in 2012 thanks to £2bn Hinkley civils contract in June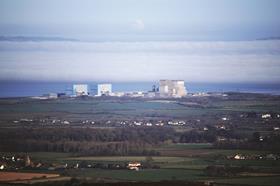 Laing O'Rourke, Balfour Beatty and Kier have topped the contractors' league tables for 2012.
Laing O'Rourke, helped by winning the £2bn Hinkley civils contract in June, gained top spot in the work won including civils table, with a £3.6bn contract haul, pushing Balfour Beatty, with a £2.5bn haul, into second and Kier (£1.4bn) into third.
But Kier gained top spot in work excluding civils, pushing Laing O'Rourke into second (£1.1bn) and Balfour Beatty (£926m) into third.
Meanwhile, a £220m rail project in Scotland helped Bam to the top of the contractors' table in December, with a total contract haul of £355m. The project for Borders Railway will involve the firm re-establishing a passenger rail link from Edinburgh through Midlothian to Tweedbank. It helped the firm jump from 15th place in November in the table including civils to top spot last month.
Balfour Beatty slipped from top spot down to second, narrowly behind Bam with a £349m contract haul, the bulk of which was made up by a £321m contract with the Highways Agency to upgrade the M25 between Caterham and Sevenoaks, won in a 50:50 joint venture with Skanska.
Kier and Wates were both big movers last month, up from 8th and 10th in the league table for work excluding civils, with Kier into first and Wates second.
Kier's £175m haul came across 28 contracts, while Wates' £139m total included the £57m Larner Road regeneration scheme, in Kent, for Orbit Group.
The news came as the CPA/Barbour ABI construction index dropped to 110, down from 113 the previous month, ending a three-month upward trend. This represents a 2% fall on November and a 7% fall on December 2011.
For full interactive league tables of contract wins by job title, sector and region - including monthly and yearly data - go to www.building.co.uk/barometer