But Kier mops up places while Bouygues and ISG land big spots for the first time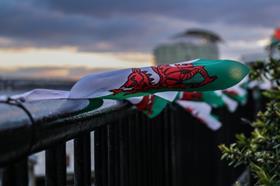 Laing O'Rourke has failed to hold on to a place on a £1bn Welsh framework as rivals ISG and Bouygues swoop in for the first time.
SEWSCAP 3 is a four-year construction framework for use by 20 councils in south and mid-Wales, starting this month, with procurement led by Cardiff council.
It can be used for the construction of schools and other public buildings.
While its predecessor featured six lots for different values of project, its successor has an additional five lots: one for portable buildings, and four with regional specifications.
Kier is the biggest winner, having secured a place on all 10 of the lots for onsite construction works, with Speller Metcalfe having landed spots on seven lots.
Laing O'Rourke was previously one of five firms on the lot for works between £25m and £100m but was replaced by newcomers ISG and Bouygues. Another former incumbent on this lot, Interserve, has been demoted to first reserve.
The duo also nabbed spots for the first time on the lot for works valued at £10m to £25m; previously ISG had only been on the £1.5m-£3m slot and Bouygues was only a reserve contractor.
SEWCAP 3: Who has won a place on the framework?
Lot One - Mid Wales (Powys) £250k - £1.5m
Rank
Contractor
1
Kier Construction
2
Knox and Wells
3
Ian Williams
4
Speller Metcalfe
5
WRW Construction
1st Reserve
Jistcourt (South Wales Ltd)
2nd Reserve
Jones Bro (Henllan)
Lot Two - Torfaen, Blaenau Gwent, Monmouthshire, Caerphilly £250k - £1.5m
Rank
Contractor
1
Kier Construction
2
Knox and Wells
3
Ian Williams
4
Speller Metcalfe
5
Graham Facilities Management
1st Reserve
Willis Construction Limited
2nd Reserve
Jistcourt (South Wales Ltd)
3rd Reserve
John Weaver Contractors Ltd
Lot Three - RCT, Merthyr, Bridgend £250k - £1.5m
Rank
Contractor
1
Kier Construction
2
Knox and Wells
3
Ian Williams
4
Speller Metcalfe
5
Graham Facilities Management
1st Reserve
Willis Construction Limited
2nd Reserve
Jistcourt (South Wales Ltd)
3rd Reserve
John Weaver Contractors Ltd
Lot Four - VoG, Cardiff and Newport £250k - £1.5m
Rank
Contractor
1
Kier Construction
2
Knox and Wells
3
Ian Williams
4
Speller Metcalfe
5
Graham Facilities Management
1st Reserve
Willis Construction Limited
2nd Reserve
Jistcourt (South Wales Ltd)
3rd Reserve
John Weaver Contractors Ltd
Lot Five - Mid Wales (Powys ONLY) £1.5m - £5m
Rank
Contractor
1
Kier Construction
2
Wynne and Sons
3
Midas Construction
4
Speller Metcalfe
5
Knox and Wells
1st Reserve
Read Construction
2nd Reserve
WRW Construction
3rd Reserve
Wernick
Lot Six - All £1.5m - £3m
Rank
Contractor
1
Kier Construction
2
Midas Construction
3
Interserve Construction
4
Knox and Wells
5
Speller Metcalfe
1st Reserve
Andrew Scott Ltd
2nd Reserve
Engie Regeneration
3rd Reserve
WRW Construction
Lot Seven - All £3m - £5m
Rank
Contractor
1
Kier Construction
1
Morgan Sindall
3
Midas Construction
4
Interserve Construction
5
Knox and Wells
1st Reserve
Andrew Scott Ltd
2nd Reserve
Speller Metcalfe
3rd Reserve
Engie Regeneration
Lot Eight - All £5m - £10m
Rank
Contractor
1
Kier Construction
1
Morgan Sindall
3
ISG Construction
4
Willmott Dixon
5
Midas Construction
6
BAM Construction
1st Reserve
Interserve Construction
2nd Reserve
Galliford Try
3rd Reserve
Knox and Wells
Lot Nine - All £10m - £25m
Rank
Contractor
1
Kier Construction
2
Morgan Sindall
3
ISG Construction
4
Bouygues
5
Wynne and Sons
6
Willmott Dixon
1st Reserve
BAM Construction
2nd Reserve
Interserve Construction
3rd Reserve
Andrew Scott
Lot 10 - All £25m - £100m
Rank
Contractor
1
Kier Construction
1
Morgan Sindall
3
ISG Construction
4
Bouygues
5
Willmott Dixon
6
BAM Construction
1st Reserve
Interserve Construction
2nd Reserve
Galliford Try
3rd Reserve
Sir Robert McAlpine
Lot 11 - Demountable, Temporary Building (Hire or Purchase) £0 - £100m
Rank
Contractor
1
Midas Construction
2
Ace Portable
3
Wernick Buildings
4
McAvoy Group
5
Portakabin