Union's boss Steve Murphy tells MPs contractor was dragged "kicking and screaming" into widely-touted Hinkley industrial agreement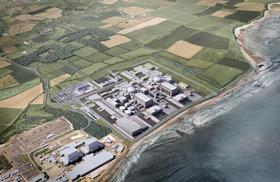 Laing O'Rourke may be forced to explain itself to MPs investigating blacklisting after the boss of Ucatt told them the contractor was not allowing the union onto its sites and had to be dragged "kicking and screaming" into signing up to a new industrial agreement partly designed to stamp out the notorious practice.
Giving evidence yesterday to the Scottish Affairs committee - which has been investigating blacklisting since June 2012 - Ucatt general secretary Steve Murphy complained that the main contractor only signed up to the widely-admired industrial agreement covering the £16bn Hinkley Point C nuclear power plant after client EDF insisted.
The agreement, struck in the first instance between the three main construction unions and EDF, insists upon a fully directly-employed workforce and includes an 'employment affairs unit' run by EDF but including union and contractor representatives to monitor compliance with the agreement.
It also contains several anti-blacklisting provisions and last month EDF's site construction director on the project Nigel Cann told the committee that contractors on the project would face fines or removal from the project if found to be involved in blacklisting.
Murphy described the agreement as a "blueprint" for the industry but added: "Contractors like Laing O'Rourke were kicking and screaming over this agreement.
"They didn't want to sign up to it…they wanted a piece of the action [at Hinkley] but they didn't want this agreement until the client EDF said 'you can take it or leave it'.
"Laing O'Rourke, to be fair, employs directly but when we see them across the table to discuss this agreement it's a problem. When we try to get on their sites it's a problem. There is something there that's not right."
Murphy had earlier told the MPs that Ucatt had most difficulty accessing the site of Laing O'Rourke's £167m Alder Hey hospital project in Liverpool, adding that this made it impossible to check the working rule agreement was adhered to and to check the number of union members on site.
Committee chairman Ian Davidson responded to Murphy: "Why don't you put something in writing about not having access.
"One we've got that, we will decide how to proceed. It may be that we want to write to Laing O'Rourke and bring them in before us."
Murphy and three other union bosses, Kevin Coyne and Bernard McAulay from Unite the union and Phil Whitehurst, the GMB's national construction officer, all agreed that the agreement struck at Hinkley was a "best-practice" model which should be rolled out across the industry.
Coyne said Unite was in discussion with other nuclear new build clients such as NuGen and Horizon about applying the agreement on their projects.
A Laing O'Rourke spokesperson said:"Unions are not barred from our sites. Where a reasonable request for access is made and within the parameters of the approach, which is agreed locally, it is granted. We totally accept and support the role of the trade union movement and the support they can provide to our employees and the Group.
"Ucatt officials have been offered a slot within our site inductions to advertise the benefits of trade union membership and seek to recruit our employees into membership. In addition we offer a voluntary check off facility to those employees who wish to have their trade union subscriptions deducted from their weekly wage. Ucatt officials in other regions chose to take up the option to attend our project inductions, but refuse to accept this arrangement at Alder Hey.
"As with any contractual negotiation, there were points with the Hinkley C agreement that generated healthy debate. Laing O'Rourke is pleased with the agreement and proud that it is being held up as a blueprint for the industry going forward."