Developer says solar glare fix will come within tower's £500m budget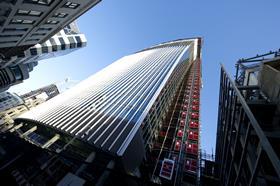 Land Securities has said it is close to fixing the solar glare problem that emerged over the summer at its landmark Walkie Talkie tower development in the City of London.
In a statement accompanying its half year results this morning the developer said it was in the final stages of designing a solution and that implementation would commence shortly.
Land Securities said the fix would come "comfortably within" the project's contingency fund and there would be no increase in the scheme's forecast £500m total development cost.
Canary Wharf Group, the joint developer of the tower, told Building in September that the fix was not likely to cost more than "low single digit millions".
Handover of the pre-let office floors is expected to be on schedule for April 2014, with completion of the roof garden in June 2014.
Land Securities chief executive Rob Noel said: "Despite the solar glare issue of the summer, occupiers have not been blinded to the efficiency and location of the building.
"We have continued to attract new tenants and the building is now 56% pre-let, with a further 20% in solicitors' hands."
The developer also announced it is likely to commit to two new schemes in London that would be built by mid-2016, 260,000 sq ft office building 1 New Street Square in the City and the 18-storey Paddington office tower 20 Eastbourne Terrace.
In its half-year results for the six months to 30 September, Land Securities enjoyed a three-fold increase in pre-tax profit to £397.9m and a 8.9% increase in revenue profit, which measures underlying profitability by stripping out capital and other one-off items.