Scheme designed by Assael could use off-site construction
Assael Architecture has been given the green light for a 440 home build to rent scheme in north-east London that is being spearheaded by Legal & General, which is looking to become a major housing developer.
It will see five buildings of varying height built on the Ferry Lane industrial site in Walthamstow and connected by pedestrian walkways to improve connectivity.
The scheme is the first of its kind in the borough and has been designed to be built using either traditional or off-site modular methods. It includes up to 2,000 sq m of commercial space for shops and offices.
Best known for insurance and investments, Legal & General is looking to shake up the housing market and has plans to develop modular housing from a factory just outside Leeds with the first prototypes due by the end of the year.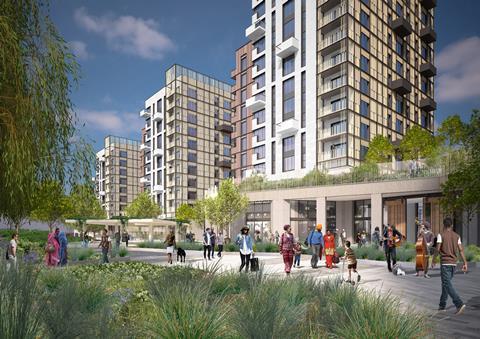 Two cross-laminated timber homes – one three-bed, the other five-bed – are set to be produced, each coming in ready-to-assemble sections like giant pieces of Ikea furniture.
The prototypes are a key milestone in the investor's plans to deliver around 3,000 low-cost modular homes a year to help solve the UK's housing crisis.
Legal & General has recruited Ian Eggers, the former Mace director who led the contractor's early work on the Shard, to help lead delivery of its modular homes programme.
Eggers, who has the job title of integration director, is sounding out housing associations and housebuilders as potential delivery partners for modular homes arm L&G Homes.