Completed stand expected to generate additional expenditure of over £107m by 2023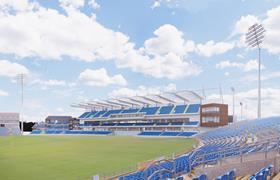 Insurance firm Legal & General has agreed a deal with Leeds City Council to fund the redevelopment of Headingley Stadium.
It is financing the work with a £35m investment for the redeveloped stand, which sits on the south side of the cricket stadium and the adjacent north stand of the rugby stadium.
Legal & General said the deal will help secure the future of Headingley as home to top-level international sport, upgrading the seating capacity and providing facilities that will meet future standards.
It added significantly boosting local jobs and economic growth, both during construction and over the long term, it is estimated that once complete the new stands will generate additional expenditure of over £107m by 2023.
The stadium has hosted international sports for over 110 years, and continues to host test, one day international and T20 cricket matches, as well as rugby league internationals. It is the home of Yorkshire County Cricket Club, Yorkshire Carnegie Rugby Union Football Club and Leeds Rhinos Rugby League Club.
Pete Gladwell, head of public sector partnerships at LGIM Real Assets, said: "This investment is in line with our desire to transform and reshape Britain's landscape by improving and better utilising our existing infrastructure.
"There is significant economic benefit that maintaining "Test" status for Headingley will bring to the City and the wider region, which makes this redevelopment another important investment in the City."