Supreme Court overturns earlier decision which said firms weren't liable for LADs if contract was terminated
Lawyers are warning that firms booted off jobs can still be liable for liquidated damages, after the Supreme Court overturned an earlier legal decision last week.
The case involved a row between PTT, a Thai state-owned oil and gas company, and a US software firm called Triple Point – with the contract between the two overseas firms having English jurisdiction.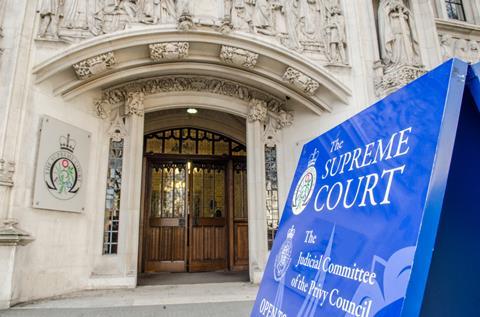 Triple Point was asked by PTT in early 2013 to design and install a new software system for its commodities trading business.
After Triple Point completed the first two stages of its first phase of work nearly 150 days late, the firm's contract was terminated in March 2015.
Triple Point began proceedings in the Technology and Construction Court to recover outstanding sums on unpaid invoices with PTT counterclaiming for damages and liquidated damages for delay.
After an initial Technology & Construction Court ruling in 2017, which said Triple Point had to pay liquidated damages up to the point of termination, the Court of Appeal overruled that decision in March 2019 and said the US firm wasn't liable for liquidated damages because of the termination.
PTT was given leave to appeal last year and last week the Supreme Court, the highest court in the UK, said firms which were late would be liable after all for liquidated damages up to the point of termination.
Giving her judgement, Lady Arden said: "The parties may out of prudence provide for liquidated damages to terminate on completion and acceptance of the works so as to remove any question of their being payable thereafter. But if they do, it is in my judgment unrealistic to interpret the clause as meaning that if that event does not occur the contractor is free from all liability for liquidated damages."
Leeds-based Barton Legal director Bill Barton said: "The Supreme Court has made it clear that the termination of a contract will not release a contractor from liability for liquidated damages. There's been a huge amount of contractual uncertainty over the last year and so there are probably a significant number of contractors that have suddenly lost what they thought was a 'get out of jail free card' in terminating a contract."
And he added: "Hefty contracts are often signed by those who do not understand the terms and in some of cases may not even have read them. As Lady Arden noted, the Triple Point contract was over 100 pages, and it certainly cannot be said to have been in plain English. The chances of a landmine being buried in complex text of such length is dangerously high and Triple Point seems to have stepped on it. If there is a lesson from the verdict, it is to be clear in your drafting and make sure you actually know what the law is."
Hamish Lal, a partner in Akin Gump Strauss Hauer & Feld, said: "The fundamental point is now clear: the Supreme Court ruled it is a principle of law that the accrual of liquidated damages comes to an end on termination of the contract and after that event, the parties' contract is at an end and they must seek damages for breach of contract under the general law. Further, parties do not have to provide specifically for the effect of the termination of their contract."