Surveyors expect levels of activity to fall in coming weeks
The latest lockdown and the ending of the stamp duty holiday are behind a slowdown in growth in house sales, warns the RICS.
Its latest UK Residential Market Survey, released today, reveals that while activity in the housing market has continued to rise, momentum has slowed significantly.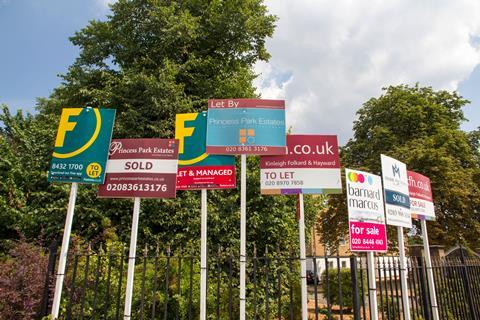 While a net balance of +15% saw an increase in new buyer enquiries during December, this is down from +26% in November.
The report, based on the responses of surveyors across the UK who were polled in December, also shows that agreed sales slowed, with a net balance of +18% compared to +24% in November.
House prices have continued to rise, according to a net balance of +65% of respondents to the poll.
It cites London as the "only region where house price inflation appears somewhat muted" with the latest net balance for the capital at +7% compared to +13% in November.
The coming weeks could see a drop in activity, the survey added.
It said that "respondents anticipate the latest lockdown restrictions, related economic challenges and the end of the Stamp Duty holiday to weigh on activity going forward".
And it warned: "Likely in part linked to the renewed pressures induced by the pandemic in recent weeks, near-term sales expectations slipped further to post a net balance of -22% across the UK and is the weakest since April 2020."
But the longer term outlook for sales over the next 12 months is less negative, with a net balance of -6% predicting a drop in house buying and +24% expecting house prices to have risen.
William Delaney, a surveyor at Lawrence Ward & Co, said: "Now that a Brexit trade deal has been agreed, one element of uncertainty has been removed. However, the severe covid restrictions and the economic consequences, continue to dampen confidence."
He added: "The volume of recent developments with cladding is another largely unresolved issue affecting sales."
Last week the RICS proposed new guidance designed to vastly reduce the scope of buildings subject to EWS1 fire safety assessments for cladding.
The safety assessments, introduced by the RICS in 2019 in a bid to provide reassurance to lenders and insurers of high-rise blocks, have contributed to a major blockage in the housing market after a government rule change meant insurers and lenders started requiring them on flat blocks regardless of height.