Panel of 30 influential construction figures will 'embody the partnership between industry and government'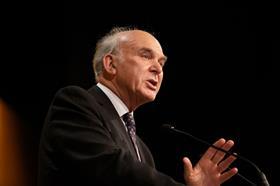 A 30-strong Construction Leadership Council has been formed to drive the implementation of the sector's new industrial strategy.
The council is to be chaired jointly by business secretary Vince Cable (pictured) and Network Rail chief executive David Higgins and includes figures from both government and industry, including business minister Michael Fallon, chief construction adviser Peter Hansford, and representatives of a range of industry bodies.
It also includes a number of industry leaders such as Kier chief executive Paul Sheffield, Laing O'Rourke chief executive Anna Stewart, and Berkeley Group chair Tony Pidgley.
Hansford said the leadership council, which was formed out of the advisory body that helped inform the creation of the industrial strategy, would meet at least three times a year to drive implementation of the strategy.
He said: "This [council] is where the partnership comes together. It embodies the partnership between industry and government."
He added that the council was not designed to replace any existing bodies, such as the
Strategic Forum: "It is not intended to disturb the current ecosystem of existing bodies, but if bodies want to change in response to this, it's up to them."
In a statement Strategic Forum chairman Bill Bolsover said the forum was "uniquely placed" to help the industrial strategy change the industry.