City wants to improve transport links as well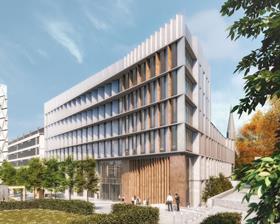 City leaders in Leeds have revealed £1bn plans to build an innovation hub and overhaul transport in order to attract investors.
The plans, which will be revealed at Mipim today, are expected to highlight how the council is prioritising investment in innovation and transport connectivity.
Council leader Judith Blake is expected to say: "Leeds has seen a renaissance in investment with more than £3.9bn invested in large scale development projects over the last decade and a further £7.3bn worth of development planned and under construction.
"But we know from ongoing conversations with business leaders and investors that access to talent and innovation as well excellent connectivity remain the priority to ensuring continued business growth and a buoyant economy post-Brexit."
Details about how the University of Leeds's planned £40m innovation centre, Nexus (pictured), will connect businesses with research and talent from the university will also be revealed.
The university has also invested in the development of an Institute for High Speed Rail and System Integration, in readiness for HS2's planned arrival in the city by 2033.