L&G to build world's largest modular housing factory while Urban Splash targets 1,000 modular homes a year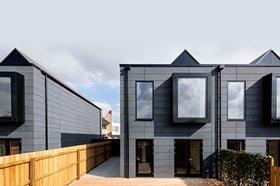 Heavyweight clients Legal & General and Urban Splash have joined the rush of firms gearing up to deliver thousands of prefab homes in the UK.
Investor Legal & General has launched a modular housing business, Legal & General Homes, and is planning to deliver around 3,000 homes a year from a recently leased mammoth warehouse in West Yorkshire.
Meanwhile, market sources say Urban Splash has a target to deliver up to a 1,000 a year of its own modular "hoUSe" product (pictured).
Legal & General has leased a 550,000ft2 warehouse outside Leeds and has begun converting it into the world's largest modular housing factory, while Urban Splash launches the initial 44 units of its first prefab housing project in Manchester later this month.
The pair join contractor Laing O'Rourke and architects Rogers Stirk Harbour + Partners and ZEDfactory in launching plans to deliver major prefab housing programmes.
Laing O'Rourke has committed to building an advanced manufacturing facility at its Explore Industrial Park in the Midlands which will focus on housing projects - despite racking up losses on contracts delivered through its first off-site plant focused on commercial jobs.
Rogers Stirk Harbour + Partners revealed plans last month to deliver up to 7,500 units a year of its prefab housing system, a version of which has been trialled at a 24-home project in Lewisham, south London.
Meanwhile, Zedfactory is ready to support delivery of up to 5,000 zero carbon homes a year built on stilts above car parks.
Zedfactory founder Bill Dunster told Building he is looking at sites in London, Cardiff, Oxford and Bath for the first homes, and is aiming them at young professionals priced out of the housing market to "get them living where they work". His Zedpods concept will be launched at the Ecobuild conference in London next week.
Commenting on the raft of recent modular housing initiatives, Mark Farmer, chief executive of start-up consultant Cast, said: "We are starting to see a real shift towards the active consideration of off-site and advanced manufacturing techniques in residential construction.
"What everyone is starting to realise is that to do nothing is not an option with a shrinking workforce."
Neal Hudson, Savills research associate director, said: "If L&G's housing factory aspirations are reached they will have a huge positive impact on construction capacity. In the current market this is likely to be most successful where delivery is not constrained by sale rates, such as high density city centre build to sell, built to rent or social rent developments.
"The speed of delivery is unlikely to make modular homes attractive for edge of town greenfield housebuilders, although if it becomes directly competitive on cost with traditional methods (ignoring time savings) then interest could increase."