Government £9.4m loan will pay for key infrastructure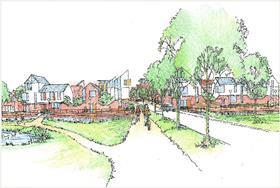 Work on a 4,000-home scheme near Leicester will start next month, after the government agreed a £9.4m loan to the developer.
The New Lubbesthorpe scheme will provide 4,200 homes, plus shops, schools and a health centre.
The loan will allow developer ERB Drummond Trust to build key infrastructure linking New Lubbesthorpe and Leicester city centre.
The money comes from the government's large sites infrastructure fund, which supports projects that stalled or were mothballed during the 2008-09 recession.
The loan will go towards a new road bridge across the M1 motorway, a primary school and a new park.
The proposals for New Lubbesthorpe have already been granted planning permission.
Housing minister Brandon Lewis said: "The 2008 housing crash led to the loss of a quarter of a million construction jobs, leaving sites abandoned and homes no longer being built.
"That's why we put housebuilding at the heart of our long-term economic plan, and today's £9.4m deal will mean work can get going at New Lubbesthorpe."