Google's new HQ has been designed by BIG and Heatherwick Studio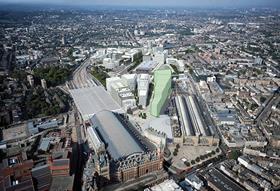 Lendlease has been confirmed as the contractor to build Google's £650m new London headquarters.
Building revealed the contractor was in line to build the tech giant's King's Cross home in January.
Google's new UK headquarters has been redesigned by US-Danish architect BIG and Heatherwick Studio after Google decided to redraw its plans for the site. The executive architect is BDP. The job has an estimated construction cost of £350m.
AHMM originally won the project four years ago but it was formally confirmed last spring that the practise was off the job.
The original AHMM-designed scheme was going to be built by Bam, but it is understood the contractor decided not to pitch this time around.
BIG and Heatherwick also designed Google's planned new global headquarters in Mountain View, California.
The 330m-long 10-storey groundscraper at King's Cross will cover 650,000sq ft of office space at what will be Google's third building at developer Argent's 67-acre regeneration scheme.
The firm currently occupies 380,000ft2 at the completed 6 Pancras Square and construction on a second building which the firm is leasing located further back at the King's Cross site is due to be completed by Carillion in 2018.
Google will eventually be able to house 7,000 people across the three buildings totalling 1 million ft2.
Lendlease, which is currently developing and building the large south London residential scheme Elephant & Castle residential, along with the International Quarter in Stratford, which will be home to Transport for London and the Financial Conduct Authority.
Joe Borrett, Google's EMEA director of real estate and construction, said: "Lendlease emerged from a rigorous selection process as the best choice as our construction partner at King's Cross because we felt it shared many of our own values; a desire to challenge industry norms, a focus on innovation, and a highly collaborative approach."
Neil Martin, manging director of Lendlease's Construction business in Europe, said: "We are absolutely delighted to be appointed by Google on this landmark project. With our global construction experience, we are confident this will be as distinctive as everything else Google does."
Lendlease is also understood to be in line to build Singaporean investor UOL Group's £500m 43-storey Square Mile hotel and is and is believed to be one of two bidders, along with Sir Robert McAlpine to redevelop the former army barracks in St John's Wood, north London, for Malaysian businessman Ananda Krinshnan's Usaha Tegas Group.