Council plans to roll infrastructure job into firm's athletes' village scheme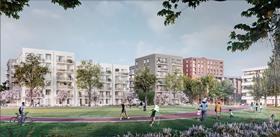 Lendlease is set to be handed a contract to deliver a major infrastructure project needed ahead of the 2022 Commonwealth Games – unless the contractor does not want the job.
A report prepared ahead of a meeting of Birmingham council's cabinet later this morning (12 February) says Lendlease, which is already working on the £350m athletes' village (pictured), has its contract remit extended to include infrastructure work that will connect the village with nearby retail areas.
The report recommends the council "approves the inclusion of the design and construction of the highway infrastructure works into the contract for the development of the Commonwealth Games Village, subject to agreement with Lendlease and a value for money appraisal".
It said the contract to progress with the preferred option to full public consultation, detailed design and full business case stage is expected to cost around £27m.
In the event Lendlease turns down the role, the council said it would pick a winner from its highways and infrastructure works framework which includes Balfour Beatty, Amey, which has been involved in a long-running legal battle with the council, and Tarmac-owned Alun Griffiths.
Work will involve removing the A34 flyover, retaining the A34 underpass and replacing the the A34/A4040 roundabout with a new junction.
Birmingham council's highways and infrastructure works framework agreement
Lot description
Contractors

Lot #1: Works up to £50,000

Amey
Fitzgerald Contractors
J. Dodd & Son
Kelbec
Parade Civil Engineering Limited
RW Services

Lot #2: Works between £50,001 to £200,000

Amey
Fitzgerald Contractors
Parade Civil Engineering Limited
Alun Griffiths
Lafarge Tarmac
McPhillips

Lot #3: Works between £200,001 and £500,000

Amey
Fitzgerald Contractors
Parade Civil Engineering Limited
Alun Griffiths
Lafarge Tarmac
McPhillips
Forkers
North Midland Construction

Lot #4: Works above £500,001

Balfour Beatty
Amey
Alun Griffiths
McPhillips
Dawnus
Volker Fitzpatrick
Jackson Civil Engineering