High Road West will be opposite football club's new 61,559 capacity stadium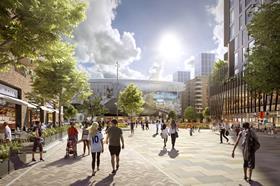 Lendlease has sealed the deal to deliver a regeneration project opposite Tottenham's new 61,559 capacity stadium in north London.
High Road West will feature more than 2,500 homes, including 730 deemed 'affordable'. Of those, 430 will fall under the shared ownership bracket while the remaining 300 will be affordable rentals. Lendlease was appointed the preferred bidder for the project in September.
The development will include a new civic square, which will be flanked by new shops, restaurants, and cafes. A new park and green spaces including gardens, a children's play area and an outdoor gym are all part of the project.
There will also be a new community library and learning centre, as well as a new district energy centre.
New thoroughfare routes and community spaces that link the area directly to Tottenham Hotspur's new stadium, and Northumberland Park will also be created.
Around 4,000 jobs will be created across the lifetime of the project ,with a high proportion targeted at local people. The project will also contributes funding towards skills and training to help locals secure job opportunities.
Construction is expected to start next year.
Jonathan Emery, European managing director of property at Lendlease, said: "Signing High Road West with Haringey allows us to work in partnership to deliver a comprehensive development including much needed new homes, first-class amenities and enhanced facilities for Tottenham residents."
Earlier this year, Lendlease signed a deal with Haringey council to build 6400 new homes in the borough, with the programme also including improvements to community facilities and public spaces.
The Haringey Development Vehicle is a 50:50 partnership between the council and Lendlease. It will deliver £2bn of new development – measured in 2015 prices – over the next 15-20 years.
Mace is building Tottenham's new stadium, which is due to open next August.