The Local Government Association is calls for a national "Skills to Build" strategy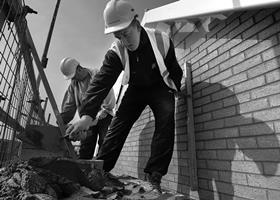 The Local Government Association (LGA) has warned that the UK's growing skills shortage threatens the government's ability to meet it's affordable house building targets
Launching a report into construction skills by the LGA, councillor Peter Box, chair of the LGA's Housing Board, said that "for too long we've trained too many hairdressers and not enough bricklayers".
The LGA, which represents over 370 councils in England and Wales, is calling on the government to work with the construction industry, councils and education providers to develop a national "Skills to Build" strategy, delivered locally through the devolution process.
The association argues that devolving careers advice, post-16 and adult skills budgets and powers to local areas, will allow councils, schools, colleges and employers to work together to help unemployed residents and young people develop the vital skills to build.
Councillor Box said councils, which currently have no influence over skills training and employment support in their areas, needed to take a leading role in determining skills needs in partnership with industry. "Industry is clear that skills gaps are one of their greatest barriers to building. Skills demand will always vary significantly across the country. For example, the Northwest is desperate for bricklayers while the West Midlands have a higher demand for wood trades and interior fitters.
"In return for increased funding and powers, councils, schools, colleges and employers could work together to reduce unemployment, close this widening construction skills gap and ramp up housebuilding."
Commenting on the report Tony Costello, training and development manager for Seddon, said that while more than 60,000 students completed diplomas in construction in 2015, the majority of them may never progress to work on a construction site. "There isn't a shortage of willingness from young people to join our industry. At Seddon alone we received more than 500 applications for our apprenticeship course, many of whom have already previously completed diplomas in construction. Seddon has a structured programme to ease them into our industry. Why can't others?
"Councils are best placed to understand the needs of their residents and the local economy, but the biggest battle we face is to ensure students leave college ready for the workplace and that employers are willing to take them on."
Previous LGA research has highlighted that up to 25% of forecast economic growth to 2022 could be lost if employers cannot recruit the skills and capabilities that they need.