Developers hope new complex will anchor Lithuanian capital's city centre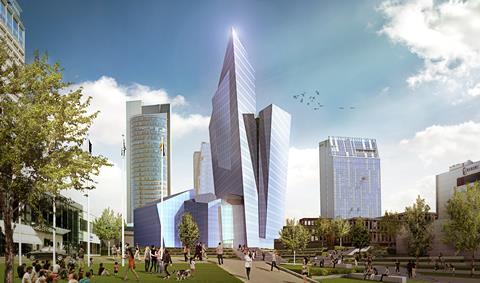 Studio Libeskind has won an international architectural competition to design a new tower in the heart of Vilnius' business district.
The Downtown Tower-k18B consists of an 18-storey crystalline building that sits on top of a six-floor podium.
The ground floor of the 20,000 sq m complex on Konstitucijos Avenue 18B houses a restaurant, bar and shops as well as lobbies for the hotel and offices on the upper levels. The scheme is being developed by Lords LB Asset Management
The competition was organized by the Vilnius Municipality, Lithuanian Union of Architects and Lords.
Marius Žemaitis, fund Manager at Lords, said: "With more than EUR 40 million to be invested in the design and construction of the complex, Downtown Tower-k18B is set to become the anchor of the new city centre."