Carillion to start work on main stand expansion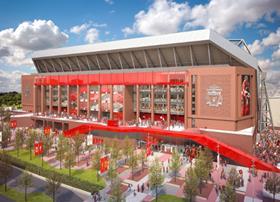 Liverpool Football Club has confirmed that Carillion is to start work on the long awaited expansion of its Anfield Stadium.
The £75m project to expand the main stand of the historic ground with a third tier of seating will add 8,000 seats.
The additional seats will increase the stand's capacity to more than 20,000. Together with an additional 4,800 seats at the Anfield Road end, the stadium will be able to accommodate a maximum 54,000 spectators. The overall project, which was drawn up by architects KSS, will be worth a total of £150m.
Matches will continue to be played at Anfield during the construction works, which is scheduled for completion by the start of the 2016/17 football season.
The redevelopment will allow the club to host international fixtures and European finals at the ground, which currently does not match UEFA's minimum standard that grounds hosting such high profile games should have a seating capacity of at least 50,000 seats.
The new stadium will include a two-storey podium which will become the new home for the Hillsborough Memorial.
Liverpool City Council granted planning approval for the £260m scheme in September. The expansion plan was drawn up after the abandonment by Liverpool of earlier plans to replace the historic Anfield stadium with a new ground on a park next door.
The stand expansion is one element of Liverpool council's plan, which was announced in October 2012, to regenerate the surrounding Anfield area.
In September, the £260m scheme received planning permission from Liverpool City Council with the project expected.
Carillion this morning confirmed its appointment on the contract and said work was expected to start this week.