University saves over £4m on two halls of residence after forming own construction company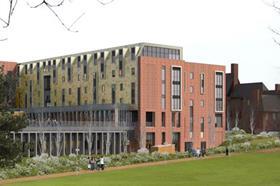 Liverpool University is planning to build a major part of its £100m-a-year capital spending programme in-house after forming its own construction company.
The university is considering giving more work to its in-house special projects team, which was formed in 2013 when the university took on staff from failing contractor Ocon. Ocon's parent company was facing administration at the time and the university's £63m Crowne Place student halls scheme was being built by Ocon.
The university-owned company that was formed - University of Liverpool Construction Company Special Projects Ltd (ULCCO-SP) – has since completed the Crowne Place scheme and a separate £9.1m refurbishment of 103-bed student halls Melville Grove.
The university is now lining up the company to build its planned £90m Greenbank Halls project, which gained planning consent earlier this month, and a separate £25m teaching facility.
Patrick Hackett, Liverpool University vice-chancellor, told Building the university had estimated that by using an in-house builder it had saved £2.5m on the cost of the Crowne Plaza scheme and £2m on the cost of the Melville Grove scheme through "value engineering". Hackett said he hoped to make similar savings on upcoming schemes by using ULCCO-SP, including Greenbank Halls.
Demolition has already started on site to make way for Greenbank Halls and the university is inviting subcontractors to express interest in the scheme, which will deliver 1,370 new or refurbished student rooms and a two-storey sports hall on the 20.8 acre site.
Hackett said Liverpool University decided to take on Ocon's staff and bring the work in-house after becoming aware of up to £1m of extra costs and up to a year of delays if it was to retender the work externally.
Hackett said: "The university was approached by subcontractors after it formed ULCCO-SP as it was seen as a sound employer. Other universities have asked anecdotally about forming internal companies."
Asked if ULCCO could expand beyond Liverpool University, Hackett said: "We assured the University Council we would not to sell construction services outside the university, there's no reason why we couldn't but it's a choice we've made not to."