Housebuilder posts 32% jump in pre-tax profit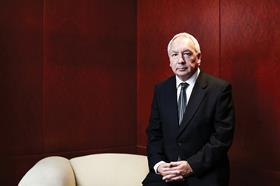 Housebuilder Crest Nicholson has said it is on target to hit £1.4bn revenue and 4,000 homes by 2019, after posting strong results for the year to October 2015, including a 32% jump in pre-tax profit.
Crest Nicholson revenue jumped 26% over the year to £804.8m, up from £636.3m, while volumes increased to 2,725 homes, up from 2,530. Pre-tax profit increased 32% to £154m, up from £116.7m.
The housebuilder said its strong performance was driven by refocussing its resources on new zones of London, and expanding its new Chiltern division, which was launched in 2014.
The firm's operating profit margin hit 20.3%, up from 20.1%.
Chief executive Stephen Stone (pictured) said: "Since the recent low point of 1,520 units in 2011, Crest Nicholson has increased its volumes by almost 80% and is establishing a strong business for the benefit of all our stakeholders."
Crest Nicholson said it was targeting expansion in PRS, after selling 97 PRS units at Bath Riverside in April and contracting to deliver a further 227 units at Kilnwood Vale near Crawley for M&G Real Estate.
Stone added: "The five-year outlook in the sector remains strong, with good sales rates and access to mortgage finance for first-time buyers through the government-backed Help to Buy scheme.
"Land conditions are positive, despite ongoing constraints in the planning system, and sales price inflation is currently covering build cost inflation as demand outstrips supply.
"Overall, we are seeing no shortage of land-buying opportunities coming forward and the gross development values of both our short and long-term land pipelines continue to grow."