Latest Future Trends Workload Index shows regions more optimistic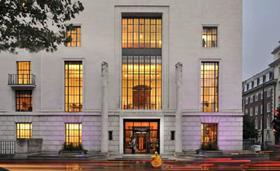 Architects in London remained the most pessimistic in the UK last month, according to the latest RIBA Future Trends Workload Index, with jitters continuing around Brexit and the general outlook for the UK economy.
But despite being downbeat, designers in the capital reported medium-term workloads had improved to a score of -1, the best mark for some time, RIBA said.
The overall index rose to +13 in April, up from +6 in March and while London was gloomy, practices elsewhere continue to be more upbeat. The balance figure in the Midlands and East Anglia was +23, in the North of England +20 and in the South of England +30, showing that outside London confidence levels are more robust.
RIBA membership director Adrian Dobson said the current mood among architects could best be described as one of cautious optimism. "Actual workloads are holding steady and most practices seem to be able to see a reasonable short to medium term pipeline of work.
"However, there remains an underlying nervousness in relation to the broader political and economic context, including issues such as Brexit, the impact of potential interest rate rises and the inflation outlook."
Large practices (51+ staff) returned a workload balance figure of +29, medium-sized firms (11 - 50 staff) +9, and small practices (1 - 10 staff) returned a balance figure of +12.
RIBA said its quarterly report showed that the total value of work in progress in April 2018 was level with the same month last year, "suggesting that whilst some of the steam has gone out of the market, demand for architectural services remains steady".
In terms of different work sectors the private housing sector workload forecast remains the most positive, rising to +16 in April from +11 in March and the commercial sector workload forecast moved back into positive territory, with a balance figure of +6, up from -2 in March.
The public sector workload forecast (balance figure -1) and the community sector workload forecast (balance figure +7) were both also back on an upward path.