Opening date for Assemble scheme at Goldsmiths pushed back four months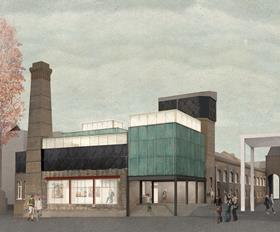 The opening date for a new arts gallery designed by Turner Prize-winning architect Assemble at a top London college has been delayed by four months.
The Goldsmiths scheme, called the Centre for Contemporary Art, was due to have opened next May but has now been put back until September.
A spokesperson for the college, whose alumni include artists Damien Hirst and Antony Gormley, said the scheme in New Cross, south-east London, had been hit by steelwork problems.
She said the build was a "highly complex project" and issues had occurred around finalising the design and specification of steel trusses and supporting framework.
"The design issue has now been resolved but the delay will take the build project into the summer months and the decision was therefore taken to reschedule the official opening for September 2018," she added.
The centre, which is being built by Kent contractor Bryen & Langley, will have a floorspace of 1,000 square metres featuring eight exhibition areas, a café and education space. It is being built on the site of a former Victorian swimming baths.
Assemble won the scheme four years ago with the project then carrying a pricetag of £1.8m. The practice, which won the Turner Prize in 2015 for its Four Streets project in Liverpool, beat a number of other firms to land the Goldsmiths competition, including HAT Projects and Jamie Fobert Architects.