Expansion plan fails to win City Hall backing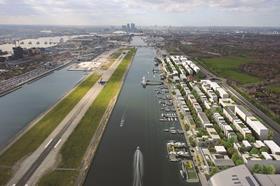 London City Airport has accused mayor Boris Johnson of denying the UK a £750m-a-year business opportunity by refusing planning permission for its £200m expansion programme.
The City Airport Development Programme (CADP) would have involved creating new aeroplane parking stands, enlarging existing stands, constructing a new runway taxi lane and extending the terminal building.
The aim was to bring in larger planes to serve new destinations and expand flights towards the 120,000 per year granted to the airport in 2009.
Newham council approved the plans in February, but Johnson turned them down last week on the grounds of noise.
The airport said it was "perplexed and disappointed" by the decision. It said that the CADP could have delivered an additional £750m per year to the UK economy and 2,000 new jobs in east London (500 during construction).
Declan Collier, the airport's chief executive officer, said: "It is ironic that the Mayor of London, whose platform has always been one of advantage for business in London, is denying the capital the business opportunity presented by growth at London City Airport.
"It is doubly ironic that this decision was taken on LCY's busiest-ever day, when more than 16,500 passengers passed through the terminal. Demand for the connectivity the airport provides is growing, driven by the success of London as a global business centre, and to service this demand, the airport needs to grow."
London City Airport said it would make a decision on its response strategy "in due course".