Government figures show the first annual fall in the capital since 2009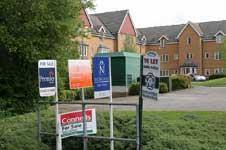 Year on year house prices have fallen in London for the first time since 2009, according to the latest official government figures.
In its latest update, the Office for National Statistics said UK house prices in March were 0.4% down compared to a year earlier, and down 0.6% on February to an average of £225,283.
In the last year prices fell 0.2% in London, the first annual fall since October 2009, with prices also falling in the South East, by 1.4%. Average prices in London are still about a third higher than in the next most expensive region, at £368,049.
Overall prices were broadly stagnant, with small annual falls in prices in England and Scotland being offset by a 0.4% increase in prices in Wales. However, Northern Ireland continued its dramatic decline, with prices down 10.7% over the year.
The average price of new homes actually rose 6.9% over the period, a shift which is likely to be down to the increasing focus from housebuilders on large family homes rather than flats.