Sadiq Khan overrules councils to green-light 691 new homes
Mayor of London Sadiq Khan has overruled councillors in two boroughs and approved high-density housing developments that will deliver 691 new homes.
Using his mayoral powers, Khan approved a 505-home development at Tottenham Hale designed by Allies and Morrison and a 186-home scheme in Harrow by Moss Architecture. Both had been recommended for approval by planning officers, but refused by councillors.
Khan said the 21-storey Tottenham Hale scheme, created for Muse Developments and the Canal & River Trust had seen its design tweaked to address concerns about its impact on the Green Belt, and had also seen the proportion of affordable housing proposed increased.
He gave no indication the 17-storey Moss scheme - drawn up for Origin Housing for a site in Wealdstone - had been altered.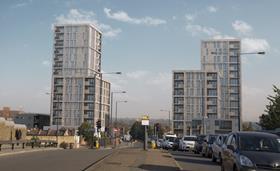 Announcing the decisions, Khan said he had fully considered all the evidence available and was "confident" both high-density developments would deliver hundreds of genuinely affordable homes for Londoners.
"We've worked with the applicant on the Hale Wharf scheme in Haringey to increase the level of affordable housing and ensure the project will not encroach on our precious Green Belt, as was the case in earlier designs," he said.
"Building the homes Londoners urgently need will mean town centres and suburbs becoming denser, so we expect developers to continue to come up with high-quality designs which don't have a negative impact on their surroundings."
Previous London Mayor Boris Johnson called in 19 planning applications during his eight years in City Hall, approving 17 of them and passing over another two - Bishopsgate Goodsyard and Wimbledon Stadium - to Khan.
City Hall said the Haringey and Harrow schemes, which are Khan's first two call-ins, had been processed in 65 days, significantly more quickly than what it described as Johnson's average of 177 days.
When Khan announced his decision to call in the Haringey and Harrow schemes earlier this year, the Conservative Party's London Assembly planning spokesman Tony Devenish said it was "concerning" the mayor was willing to reassess schemes rather than urging developers to submit better proposals.