New starts on the rise, but overall only 7.7 million sq ft of office space is under construction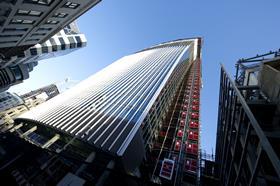 London office construction has fallen to a three-year low, with only 7.7 million sq ft of space under construction in the capital, according to the latest Deloitte Crane Survey.
Office construction in central London has fallen 17% compared to six months ago and is well below the long-run average of 10 million sq ft under construction.
The lack of new office schemes under construction will lead to demand for grade A space outstripping supply for the next three years, Deloitte predicts.
Next year is likely to deliver "one of the lowest volumes of space in twenty years", according to Deloitte.
Of the space currently under construction, 41% is already let, leaving only 4.5 million sq ft available to let.
Deloitte predicts pre-letting activity will continue to rise over the next eighteen months, with rents also expected to rise.
Office construction has dipped partly due to the completion of two mega schemes, the City of London's Walkie Talkie and Cheesegrater towers, which together previously accounted for a third of office space under construction.
In total 22 schemes comprising 3.7 million sq ft of space completed over the last six months, representing a 10-year high.
There are signs the London development market is starting to respond to the shortfall in space, with 22 schemes started over the past six months, almost double the number in the previous six months.
Demolition of existing buildings is also on the rise, 18% up on the previous six months, with over five million sq ft now being demolished, suggesting more schemes are in the pipeline.
The survey also found financial occupiers leapfrogged the TMT sector in taking up the most office space during the period.