Green audit guidance could increase potential for regeneration of public spaces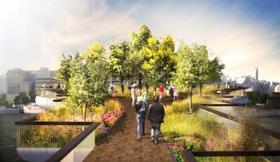 London's urban areas could be overhauled to include more green space under new guidance.
The Victoria Business and Improvement District (BID), responsible for managing and promoting London Victoria's area, has published the UK's first guidance for conducting "green audits" of public spaces, written by consultant Arup.
The guidance comes as 12 other areas of the capital embark on audits of their urban spaces.
In June, London mayor Boris Johnson unveiled plans for a new £60m garden bridge to span the Thames at the Victoria Embankment, designed by London 2012 Olympic cauldron designer Thomas Heatherwick and Arup.
Ian Lanchbury, landscape architect at Arup, said such audits conducted by developers and planners "acted as a significant catalyst" in improving green urban spaces.
David Beamont, environmental and sustainability manager at Victoria BID, said: "The rise in the number of Businesses Improvement Districts warranted a step-by-step guide that demonstrates the benefits of undertaking a green infrastructure audit.
"It is a must-read for those installing green space or enhancing existing areas and will enable more BIDs and other organisations to get their audits underway."
Andrew Wood, executive director of Natural England, the organisation that provided vital funding towards the development of the guide, said: "The best practice guide represents a major change in the way that planners, developers and organisations including BIDs could make environmental decisions on areas within their jurisdiction.
"Short-term planning to incorporate a green infrastructure audit brings about long-term benefits to an area and the business case for investing in green infrastructure is strong."
To read the Victoria BID guide, click here: http://www.victoriabid.co.uk/wp-content/uploads/2013/10/BestPracticeGuide_A4-10.pdf