Buyer Abu Dhabi Financial Group plans residential scheme at the site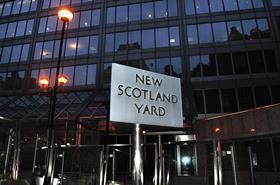 Metropolitan Police headquarters New Scotland Yard has been sold to an investor from Abu Dhabi for £370m.
The Abu Dhabi Financial Group has said it is planning a "mixed-use residential development" on the site.
The current building, marketed by consultant JLL as Ten Broadway, has 600,000ft2 of space and sits on a 1.7 acre site.
The building has been the headquarters of the Metropolitan police since 1967 but has now been sold off because it was no longer considered fit for operational purposes.
The Metropolitan Police will now move its headquarters to the Curtis Green building on Victoria Embankment, which is currently undergoing a major renovation.
Jassim Alseddiqi, chief executive of Abu Dhabi Financial Group, said his firm would "create an exceptional new landmark for London".
He added: "Ten Broadway will be one of the most important redevelopment projects undertaken in central London this decade, replacing a world famous headquarters with a world class development."
Mayor of London Boris Johnson said: "The sale of this under-used and outdated building means we can now not only protect that rich heritage, but also fund the new HQ and kit out bobbies with the latest mobile technology to secure the future of the force."