Southwark project drawn up by Allies & Morrison
A mixed-use project on land opposite Borough Market once earmarked for the Jubilee line extension (JLE) has been granted planning by Southwark council.
Designed by Allies & Morrison, Landmark Court is being developed by a partnership between developer U&I and Transport for London which bought the site 25 years ago for the construction of the JLE.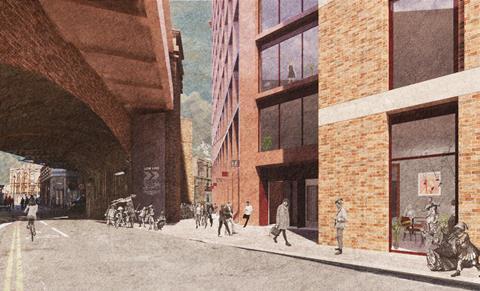 Allies & Morrison is based a few hundred yards from the site and has designed multiple projects in the area.
Also on the project team is structural engineer Robert Bird, services engineer Aecom, planning consultants Lichfields and Faithful & Gould as QS.
Landmark Court, on a site bounded by Southwark Street, Redcross Way and Union Street, will include over 200,000sq ft of commercial and retail space plus 36 homes.
U&I, which last week had its £500m plans to redevelop the London Fire Brigade headquarters in Lambeth called in by housing secretary Robert Jenrick, said the project (pictured) would be "full of references to the Victorian industrial and commercial architecture of the area".
It plans to reinstate some of the medieval yards and lanes of historic Southwark, with pedestrian routes through the site lined with cafes, restaurants, shops and market stalls to attract footfall in the evening as well as during the day.
The JV partners have also agreed to preserve the adjacent Crossbones Graveyard, a burial place for paupers dating back to at least the 16th century.
Network Rail currently owns approximately 10% per cent of the land and has agreed heads of terms with TfL to grant a long lease to facilitate the development by the joint venture.
U&I was named preferred bidder in 2017. In the last 25 years the site has been used for operational rail purposes or been occupied by commercial tenants.
Work is expected to start on site next year and complete in 2023.