Department for Energy and Climate Change confirms portfolios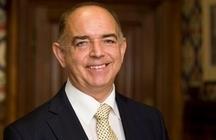 Conservative life peer Nicholas Bourne has been appointed energy efficiency minister at the Department for Energy and Climate Change (DECC) in the Cabinet reshuffle.
A former leader of the Welsh Conservative Party, Lord Bourne has been made parliamentary under secretary of state jointly for the department and for the Wales Office.
His responsibilities as minister at DECC include the Green Deal and the energy company obligation (ECO) within the energy effiency and fuel poverty policy brief. He is also responsible for the Renewable Heat Incentive, a payment system where cash is paid to owners of both domestic and non-domestic buildings who install renewable heat generation equipment.
Bourne's other responsible include climate science and innovation, as well as supporting secretary of state Amber Rudd on matters involving international climate change.
Bourne was leader of the opposition in the Welsh Assembly between 2007 and 2011, and was also a member of the Silk Commission, an independent commission which reviewed the case for devolving fiscal powers to the Welsh Assembly and considered the case for increasing the Assembly's powers.
He was created a life peer in September 2013 and took the title Baron Bourne of Aberystwyth.
Before entering politics Bourne was a professor of law at Swansea Law School, and has taught at Hong Kong University, the London School of Economics and Cambridge University.