Plans would nearly double the airport's passenger capacity to 32 million
Luton Airport has lodged an application for a major expansion of its terminal and airfield which would nearly double its passenger capacity.
Luton Rising, the council-owned company which operates the airport, submitted the development consent order (DCO) application to the Planning Inspectorate yesterday.
The plans include boosting maximum passenger numbers from 18 million a year to 32 million a year with the construction of new terminal space, earthworks to extend the airfield and infrastructure upgrades to improve access.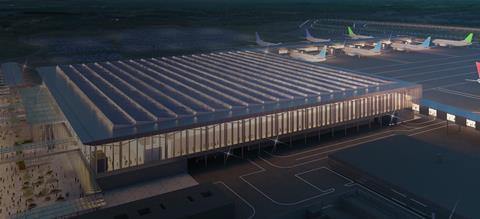 The airport also wants to extend the Luton DART (direct air-rail transit), a rail link which replaces the shuttle bus service from Luton Airport Parkway station.
The current link, which started construction in 2018, was built by a joint venture between VolkerFitzpatrick and Kier and opened to its first passengers last week.
Also included in the DCO application is landscaping and ecological improvements and initiatives to support the target of achieving zero carbon emissions in operations by 2040.
The submission, which includes more than 25,000 pages of detailed proposals, contains a 'green controlled growth strategy' that seeks to set binding and independently monitored environmental limits for carbon, air quality, noise and methods for getting people to and from the airport.
The airport said it would also invest £1 into programmes tackling decarbonisation and social deprivation in Luton and neighbouring communities for every passenger above the airport's current capacity, which would amount to around £14m.
The planning inspectorate, which is acting on behalf of secretary of state for transport Mark Harper, now has 28 days to decide if the application is ready for examination or if further documents are needed.
Graham Olver, chief executive officer of Luton Rising, said the airport had "endeavoured to do everything we can to deliver an achievable, detailed and evidence-based application that will meet the Inspectorate's requirements".
If the application is accepted, an examining authority of up to five planning inspectors will be appointed to consider the plans within a six month period.
The inspectorate will prepare a report on the application to the secretary of state including a recommendation within three months of the start of the examination. The government then has three months to make a final decision.
A full public examination is not expected before late summer, the airport said.