The Netherlands airport is to undergo a 10-year expansion programme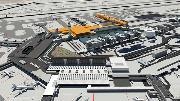 Mace and Arcadis have bagged project and construction managment roles on the delivery of a new pier and terminal at Amsterdam Airport Schiphol in The Netherlands.
The two firms in joint venture will manage the delivery of the new pier, while the delivery management of the airport's new terminal will be led by Mace with Arcadis working as a sub-consultant.
The new pier will comprise a three-storey building creating 50,000m2 of space and is anticipated to be completed by December 2019, while the new 100,000m2 terminal will house a departure and arrival hall and baggage handling facilities for an anticipated 14 million passengers every year.
Schiphol airport is undergoing a major expansion programme, which over the next 10 years will also see modifications to landside infrastructure, parking facilities, the station area and real estate developments.
Mace's chief operating officer Jason Millett said: "The expansion of capacity at Schiphol is one of the largest and most high profile aviation projects in the world, so we're thrilled that they have chosen to appoint ourselves and Arcadis to deliver the next stage of their growth.
"That Schiphol has chosen a British construction company for this role represents is a big vote of confidence in our national ability to deliver at this level."