Contractor will work with BDP and Hoare Lea on refurb of historic Department for Education buidling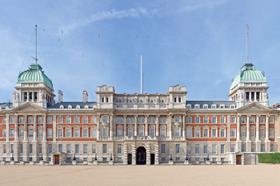 Mace has been appointed by the Department for Education (DfE) as project manager on the design and refurbishment of the Grade II listed Old Admiralty Building.
The programme of work will see the modernisation of 18,000 sq m of office space to provide the space for over 1,600 staff, who are currently working in leasehold accommodation.
Mace, working with BDP as lead designer and Hoare Lea, will be working closely with the DfE to deliver the refurbishment of the building, which is located in Whitehall.
It will provide a range of services including project management, CDM, cost consultancy, and full multi-disciplinary design services.
The building is to be designed and refurbished to achieve the BREEAM "Very Good" rating.
The Old Admiralty Building (OAB) is currently occupied by staff from the Foreign & Commonwealth Office, who as part of the Cabinet Office's strategy to rationalize the government estate, will be consolidated into the Foreign Office's King Charles Street Office in 2015.
Refurbishment work is targeted to commence late in 2015, with the project due for completion in 2017.
Mace director, Philip Worley, said: "I'm delighted that Mace has been appointed to work with the Department for Education on this important project to refurbish Old Admiralty Building. Mace has extensive experience of estate rationalisation and office redevelopment in the public sector, we are looking forward to the challenge and will ensure the successful delivery of this modernisation programme."