Contractor will help with over 100 projects across the UK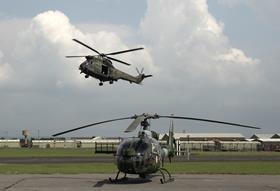 A Mace-led consortium has been appointed by the Ministry of Defence to help deliver its £4bn estates programme.
Mace has agreed a deal with the Defence Infrastructure Organisation (DIO) and will be supported by a number of consultants including Turner & Townsend, Atkins, PA Consulting and GL Hearn.
The firm will help the DIO deliver its Defence Estates Optimisation Programme, a 25-year strategy published in 2016 with the aim of improving places where the army live, work and train.
Mace will have teams based across several MoD locations and will help with over 100 projects across the UK.
The work is part of £4bn pledged by the government in November last year to overhaul the defence estate.
The MoD currently owns 1.8% of the UK's land mass, with over 40% of the estate having been owned for 50 years or more.
Mace's appointment builds on the consultant's previous work as strategic construction advisor and strategic design advisor for the MoD.
Its latest contract win was procured through the Crown Commercial Services framework for project management and is a two-year contract with an optional two-year extension.