New recruits tasked with expanding its transport business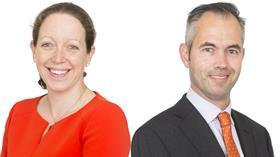 Mace has appointed two senior directors to its consultancy business as it looks to develop its business in the aviation, highways and port sectors.
Carl Dainter joins as head of aviation for consultancy following a 16 year stint at Aecom, which included the role of head of aviation EMEA for 13 years.
Mace said he has been brought on board in order to strengthen and expand its position in the aviation sector following recent appointments, which include the delivery of the new terminal and pier at Schiphol Airport in Amsterdam.
The firm has also promoted operations director Caroline Lassen to the position of head of highways and ports. She joined Mace in 2004 as a project manager and had held her most recent role for two years.
Lassen is tasked with expanding the scale and scope of the firm's highways offer, building on relationships with key clients such as Highways England, as well as leading its work in the international port sector.
Jason Millett, chief operating officer for consultancy at Mace, said: "These appointments represent a real investment by Mace into the aviation, highways and port sectors: a demonstration of how seriously we are pushing for more sustainable growth in these sectors.
"We see real opportunity – both in the UK and further afield – in all of these areas, and will be proactively seeking new clients and projects across the globe."