Two-thirds of construction courses await approval, barring firms from spending new training levy on them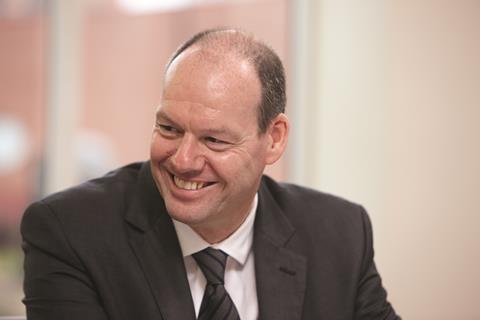 Mace chief executive Mark Reynolds has blasted the failure of the government to get construction apprenticeship courses approved in time for this year's introduction of the apprenticeship levy.
Following the introduction of the cross-industry levy by the government in April, many construction firms now pay into two separate training levies. But, despite introducing the levy in April, the government has still not approved the vast majority of construction apprenticeship courses, meaning levy funds cannot be spent on them.
Of 64 construction courses developed, only 23 have been approved for use, with key courses such as quantity surveying, building services engineering, carpentry and plastering all yet to be accredited.
Reynolds, who is a member of the government's Construction Leadership Council, said: "If you look at the number of construction standards awaiting approval under the apprenticeship levy, it's 40-plus. It's skills like building services engineers – these are standards that will enable firms to train people.
"The government needs to act urgently on this. Currently the government is a blocker to what we need to do, and it's turning the apprenticeship levy into a tax.
"These are the skills the industry desperately needs."
"Currently the government is a blocker to what we need to do"

Mark Reynolds, Mace
The apprenticeship levy is charged at 0.5% of the wage bill, and levied on firms with a wage bill larger than £3m a year. It is likely to cost construction firms at least £30m a year and can only be spent on accredited courses.
It has been introduced in addition to the £160m CITB levy.
Reynolds' comments come in the week the CITB secured approval from the industry to continue raising its annual levy, paid by around 60,000 businesses, despite serious concerns about the CITB's performance on training.
The government is expected to publish its review of construction's Industry Training Boards later of this month.
A spokesperson for the government body responsible for the apprenticeship standards, the Institute for Apprenticeships, said: "In the six months since the institute was established we have published almost 200 high quality apprenticeship standards."
This week Rob Perrins, chief executive of housebuilder Berkeley, also waded into the debate, saying colleges and employers need to work better to make sure more people join the industry.
"We need the right courses, in the right places, delivered by talented teachers given real support by employers who offer genuinely useful work experience. There is a huge amount of talent out there but the system isn't working."
The comments come exactly a year after Mark Farmer published his review of the building industry, Modernise or Die, which predicted a 20-25% decline in its workforce over the next decade and recommended radical changes in skills training.


Covers: Housing, planning, regeneration and public policy. Also leads Building's news analysis section and undertakes special investigations

Follow Joey on Twitter @JoeyGardiner