Work is underway on major Fletcher Priest-designed revamp of One Angel Court office building in City of London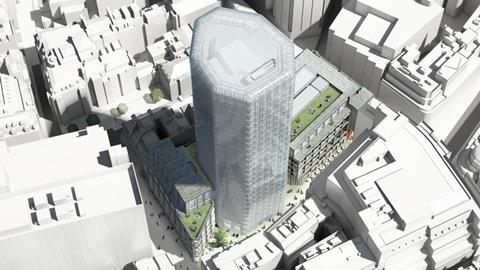 Mace has been confirmed as construction manager on a £125m job to revamp a seventies office tower in the City of London for developer Stanhope.
Mace has begun work on site at the One Angel Court building, with the project involving a complete overhaul of the 25-storey tower that will see the floor space increase from 18,000 sq m to 28,000 sq m.
The speculative scheme has been designed by Fletcher Priest Architects for client Mitsui Fudosan and involves stripping back the octagonal tower to its core, with the building then reclad with floor to ceiling glazing.
The project, which is underway, is due to be completed in the third quarter of 2016.
The scheme has been designed to achieve a Breeam Excellent rating.
Mace confirmed it had been appointed to the £125m job but declined to comment further.
Stanhope confirmed Mace's appointment.
Update: After initially declining to comment, Mace advised that it is construction manager on the project, which has a construction value of £125m. The story has been updated to reflect this information.