J Coffey and Kilnbridge in frame to take on work as PC Harrington Contractors enters administration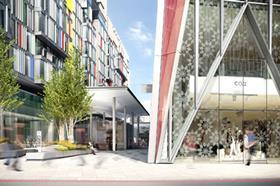 Mace is in discussions with specialist contractors J Coffey Construction and Kilnbridge about them taking over PC Harrington Contractors' unfinished works at the massive Nova mixed-use project in Victoria, London, Building understands.
PC Harrington Contractors - the £65m-turnover concrete construction arm of PC Harrington Holdings - entered administration on Tuesday, leaving its works unfinished on a number of sites, including the Nova scheme.
According to market sources Mace was in discussions with J Coffey and Kilnbridge about taking over on PC Harrington Contractors' concrete works on Nova as Building went to press on Wednesday. Mace is currently on site on the £340m Nova scheme, which will total 727,000ft2, including 480,000ft2 of offices, 80,000ft2 of retail and restaurant space and 170 luxury apartments.
A spokesperson for Mace confirmed that all outstanding PC Harrington Contractors work was being transferred to other contractors, but declined to
name them.
The spokesperson added: "We have taken steps to protect our business and we are working with our clients and supply chain in order to ensure that the work on our sites remains on schedule."
Kilnbridge and J Coffey Construction were contacted, but both declined to comment.
KPMG confirmed it had been appointed administrator at PC Harrington Contractors on Tuesday and that the specialist firm had ceased trading. A KPMG spokesperson added that PC Harrington Contractors had "experienced difficult trading conditions since the economic downturn" and suffered from a number of loss making contracts which caused its collapse.
PC Harrington Contractors did not have any direct employees as its contractors were employed through other group companies, KPMG said.
The administrator said it will now focus on "realising the value for the company's assets", and did not rule out a potential sale of all or part of PC Harrington Contractors or its contracts.
PC Harrington Contractors reported a £4.1m pre-tax loss for the year ending 31 May 2014 back in March, which the board described as "extremely disappointing and well below the expectations of the directors." The firm previously made a £1.1m profit in 2013. Turnover in 2014 was £64.7m, up 6% from £61.1m in 2013.
Building revealed on Tuesday that a notice had been filed earlier that day to Leeds Combined Court that PC Harrington Contractors had appointed an administrator. Building has no information to suggest that any other of the group's companies have also appointed administrators, or intend to do so.
KPMG added that PC Harrington Holdings "also owns the shares of one of the group's subsidiaries, Slipform International Ltd, which is outside of the insolvency process and continuing to trade under the control of its existing management, as are the other companies in the PC Harrington Group."
PC Harrington Holdings has not commented on the administration of PC Harrington Contractors.